2020 Summer Pre-Vet Bootcamp
Join Health Professions Advising for the week-long Summer Pre-Vet Bootcamp! The program will take place from Monday, July 27 to Friday, July 31 from 12:10 pm to 2:00 pm via Zoom.

The transition to Zoom has been challenging for many. In order to increase engagement with our students, we encourage everyone to have their camera on and unmute/type in the chat for questions!
Registration is only required for the Mock MMI. Click here to register for the MMI. To ensure we have enough time to plan, please register by Monday, July 27th by 5 pm. Priority will be given to the current applicants.

Everyone is welcome to attend and the events are free. Attending every session is not mandatory, come when you're available. For full length event descriptions please visit our Facebook Events page.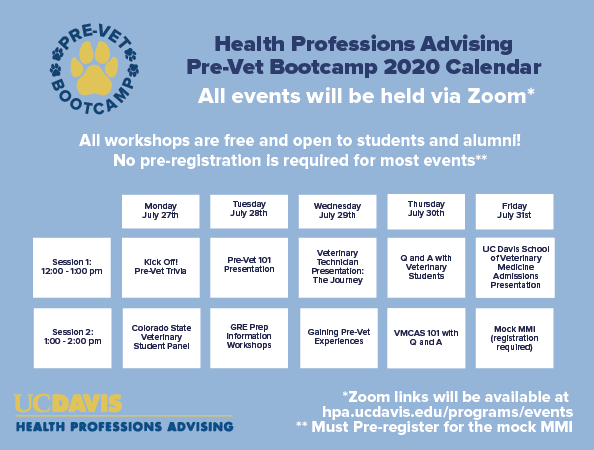 Click here to download.