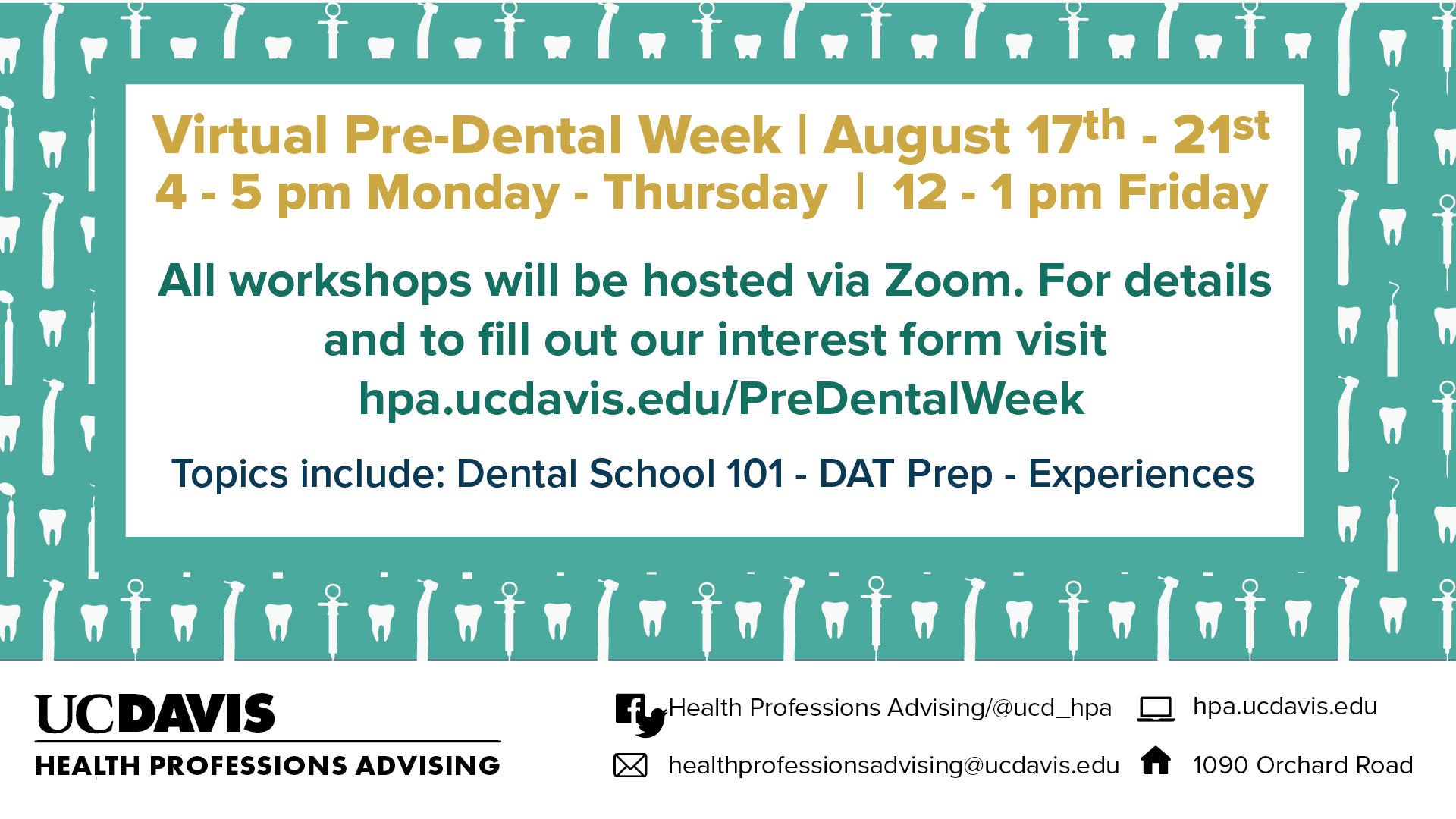 2020 Pre-Dental Week
Whether you are just starting your education at Davis or have been here for a few years, it is never too late or early to learn about how to be a competitive applicant for dental school. Fill out this interest form to stay updated. Below is the tentative schedule. For updates follow us on Facebook and fill out the interest form. We will be posting full event descriptions soon on our Facebook.

All workshops will be hosted via Zoom. Please note that Zoom may require you to download their app before viewing any content. Zoom links will be available soon at our Upcoming Events page. We highly encourage our attendees to have their camera on and unmute/type in chat when they have questions! This helps our advisors gauge our audience and connect with our students. Attendance for every session is not mandatory, join when you can! 
4 pm Monday, August 17th •  Dental School 101 
Learn what admissions representatives are evaluating when reviewing your application, including metrics, experiences, and more. Also learn more about application timelines, such as when you would be taking the DAT based on when you plan to start dental school. All questions are welcome!
4 pm Tuesday, August 18th • DAT Prep
Confused on how to approach the DAT? This workshop will include how to register, the content, breakdown of the day, typical study schedules/timelines, and popular test prep. This workshop will be lead by Doug, HPA's Test Prep Specialist. Doug also hosts workshops on DAT Prep and Study Hall Drop-Ins. For more details on the Test Prep HPA offers please visit our Test Prep page.
4 pm Wednesday, August 19th •  Exploring Dental Assisting
Many pre-dental students want to work as dental assistants during their gap years. So hear from an experienced guest speaker on the process of getting a job a dental assistant or registered dental assistant. 
6 pm Thursday, August 20th •  Q&A with a Dentist
Want to learn about dentistry from someone working in the field? Bring your questions to this Q&A with an orthodontist; ask about anything from how they navigated their career path to what a typical day on the job is like. This is a great opportunity to hear the experience of a dental professional firsthand!
12 pm Friday, August 21st •  Dental School Admissions Panel
Join us for an opportunity to chat with admissions representatives from various dental schools at this virtual panel. We have invited both California and out-of-state schools as panelists. This is a great way to gain insight into the admissions process, learn about different programs, and bring your questions.

Follow HPA on Facebook!
Last updated: 8/6/2020