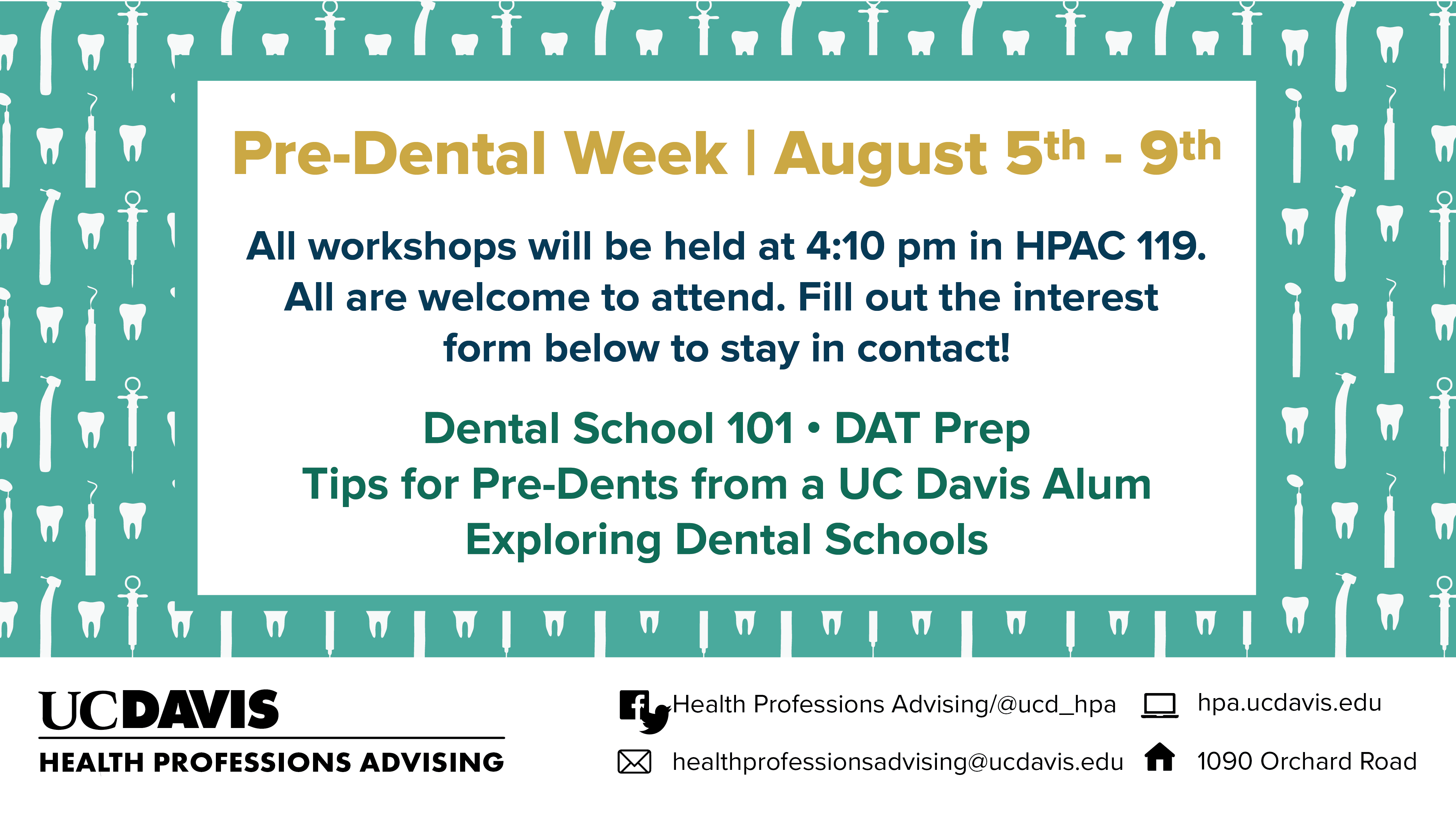 2019 Pre-Dental Week
Whether you are just starting your education at Davis or have been here for a few years, it is never too late or early to learn about how to be a competitive applicant for dental school. Fill out this interest form to stay updated. Below is the schedule and description of events.
Monday, August 5th •  Dental School 101 
Learn what admissions representatives are evaluating when reviewing your application, including metrics, experiences, and more. Also learn more about application timelines, such as when you would be taking the DAT based on when you plan to start dental school. 
Tuesday, August 6th •  Tips for Pre-Dents from a UC Davis Alum
Hear helpful tidbits on how to be successful pre-dent at Davis from an advisor who attended Davis for four years but also has her Associates Degree from community college.
Wednesday, August 7th • DAT Prep
Confused on how to approach the DAT? This workshop will include how to register, the content, breakdown of the day, typical study schedules/timelines, and popular test prep. This workshop will be lead by a pre-dent who has taken the DAT. 
Thursday, August 8th • Exploring Dental Schools
There are important factors to consider when creating a school list, including the amount of CC coursework that is accepted, whether they accept DACA and International Students, what letter requirements, and more. 
Friday, August 9th •  Exploring Dental Assisting
This event will be at 3:10 pm.
Questions? Email Karen at kfdraper@ucdavis.edu
Follow HPA on Facebook!
Last updated: 8/6