The Interview
Before
There are many things you can do before your interview to help your chances.
Use capital and lower case letters in your application. Do not write in all lower case (yes, people do this).
When you write emails to the school(s), edit your emails well. Be sure you do not write the wrong school name in an email. Slow down and read before hitting send.
If the school asks for a photo in the application process, take a nice professional photo. Put on a suit jacket and stand in front of a solid background. They are not looking for creativity here. They really just want to see what you look like (and how professional you are).
When you communicate with any person from any school, be kind, professional and appreciative. Assistants have much power in offices. Being rude or hasty on the phone is not ok under any circumstance. They will make note in your application (your name will most likely appear on their caller id).
Follow their procedures. Do not ask for a deadline extension. If you missed their deadline, apply the next year.
If you are filling out supplemental applications, do not use the same essay for multiple schools. Write each essay specific to that school, highlighting why you would be a good fit. That requires you to know a lot about that school to which you just applied.
During
Go to the location of your interview ahead of time or extra early to find parking, the office location, to deal with luggage and use the restroom. You are going to be stressed enough without worrying about the repercussions of being late. Be early so you can sit, have a coffee and take a deep breath before the day starts.
You are always on. Always. From the moment you walk on campus, you are being judged. Be careful about what you say everywhere. Don't go into the bathroom and talk about anything you would not want the admissions committee to hear. Do not talk inappropriately in the breakfast room. Even if the students at lunch or on tour tell you they are not judging, behave as professional as you can.
Put your phone away and talk to your peers. If you are sitting and waiting, read their brochures or look for conversation with others. Trust us on this. Jumping on your phone when in a social situation may send the message that you do not prefer to talk to people, which is not what you want to relay when applying to a profession requiring a high degree of human interaction.
Shake hands with everyone you meet.
Come up with questions. Questions indicate interest, and you should be interested. Be sure to ask the right questions to the appropriate individuals. For example, you would not ask your interviewer about financial aid. Nor should you ask students about admissions practices.
Maintain eye contact. If you struggle with eye contact, practice a lot before your interview.
Be flexible. If the day doesn't go exactly as planned (an interviewer is late or doesn't show), be ok. If you become overly stressed by an unplanned event, you are letting the admissions staff know how you handle stress.
Dress professionally. (We wish we didn't have to write this, but we do).
​Consider

Limit or Avoid

​Hemming your suit jacket and pants
Closed-toed shoes
A tie (any color)
Collared Shirt (any color)
Hoisery with skirt
Proper fitted clothing (not too tight, or too loose)
Limiting piercings

Fragrances
Whites socks
3+ inch heels
Low-cut shirts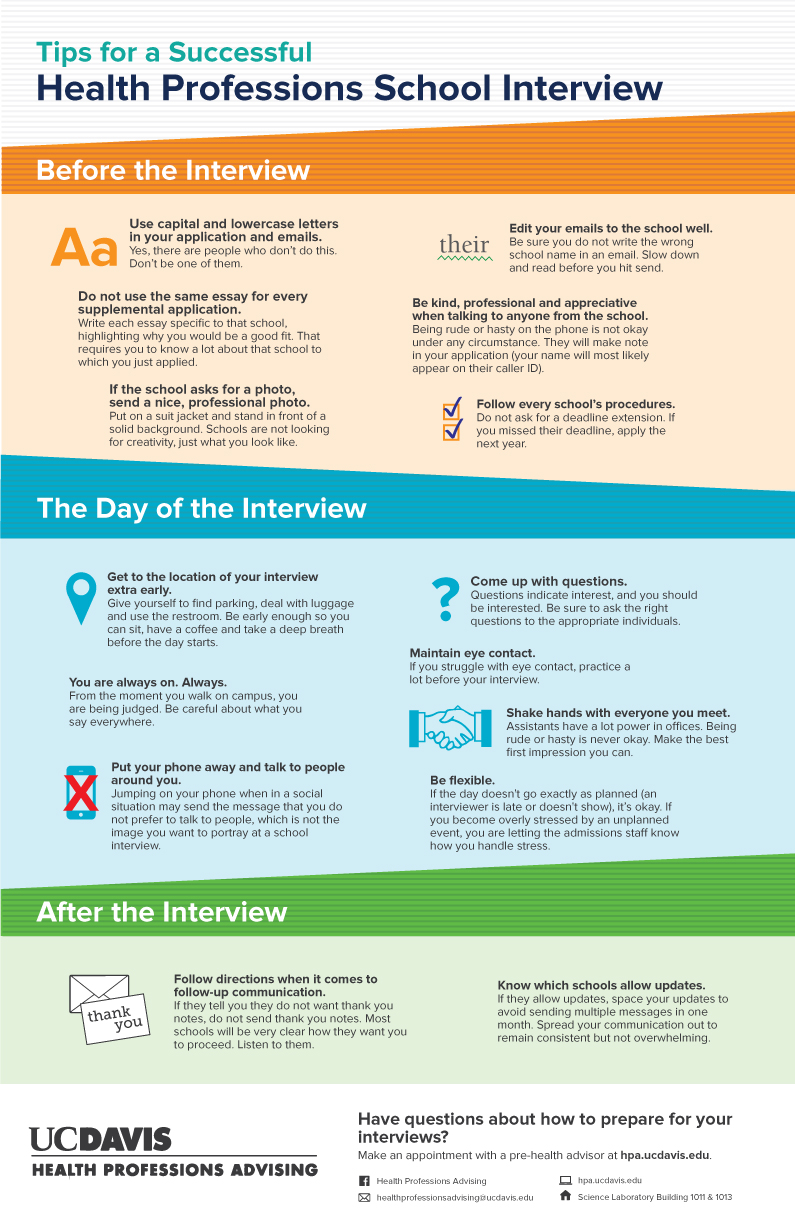 After
Follow the admissions directions for follow-up communication. For example, if they tell you they do not want thank you notes, do not send thank you notes. Most schools will be very clear how they want you to proceed. Listen to them.
Some schools will allow updates, while others will not. Know your schools. If they allow updates, space your updates to avoid sending multiple messages in one month. Spread your communication out to remain consistent but not overwhelming. You want them to know your name, but not for the wrong reason. Again, edit your emails very well. The more you send, the more they have to judge.
Supplemental content
Types of Interviews
Traditional Interviews

Traditional interviews consist of two to four one-on-one interviews. One of the two interviews will most likely be with a faculty. The other interview may be with a student of admissions officer. Questions can range from "Tell me about yourself" to in-depth questions about specific information in your application. Some traditional interviews are open (the interviewer has your full application), while some are closed (the interviewer knows nothing about you). Sometimes it is partial (parts of your application are missing, such as test scores/GPA). If you are going to a traditional interview, be sure to know your application VERY well.

MMI (Multiple Mini Interviews)

The Multiple Mini Interview (MMI) is an interview format that gauges an applicant's potential to successfully interact with patients and colleagues. The MMI is designed to measure communication skills, specifically verbal and nonverbal skills that cannot be measured using standardized written exams or by reviewing coursework transcripts. The MMI typically consists of six to 10 very short interviews that revolve around a specific scenario.

• Scenarios involving interactions with an actor
• An essay writing station; this station may be take longer than the others
• A standard interview station
• A teamwork station where candidates must work together to complete a task
• An ethical scenario involving questions about social and policy implications
• A "rest" station to help students catch their breath and relax

Situational Judgement Tests

SJTs present hypothetical scenarios through a variety of formats, including text, video, or live standardized patients. They ask applicants how they would respond or behave in that situation. The scenarios are based on one or more competencies, and the test taker's responses provide insight into his/her ability within each relevant competency. Many schools are employing standardized patients (paid actors trained to exhibit medical ailments) during interview days to test applicants' communication skills and ability to problem solve. There is little you can do to prepare other than be a strong communicator, be flexible and able to think on your feet.

Behavioral Interviewing

These interview questions aim to identify how you would behave or what decisions you would make in a given situation. They may catch you off guard, but if you answer honestly and thoughtfully, you will show them that you make informed, rational decisions based on strong ethics. Example questions might include:

Tell me about a time you led a team with members who did not agree with your decision-making. How did you resolve the situation?
Walk me through a difficult decision your recently made. What factors contributed to your decisions?
What has been your best idea so far?
Interviews
When should I expect to hear back about interviews?

Interview invitations are typically sent 1-2 months after an application is complete.

For the majority of health profession programs, this takes place between August and February. Some programs interview in late spring.

What are common types of interviews that I should expect?

Common types of interviews include:

traditional one-on-one interviews
multiple mini interviews (MMI)
situational judgment tests
group interviews
behavioral interviews

More details about each one can be found here.

How should I prepare for interviews?

Both the Health Professions Advising and the Internships and Career Center hold interview practice workshops in which students will be given a set of questions and feedback on their responses. The HPA office also holds quarterly mock MMI's that can be found on our Calendar of Events. For more tips on how to prepare for interviews, check out our list of tips here.