Transfer Pre-Health Mentoring Program (TPMP)
Through a series of Transfer Pre-Health Meetings, TPMP allows students the opportunity to gain guidance and essential knowledge as they navigate the challenging path to health professions schools.
Additionally, TPMP serves as a hub for all pre-health transfer students at UC Davis. Workshops and events are designed to answer common questions that pre-health students have, as well as creates a thriving transfer student culture at UC Davis.
---
Winter 2018 Workshop Series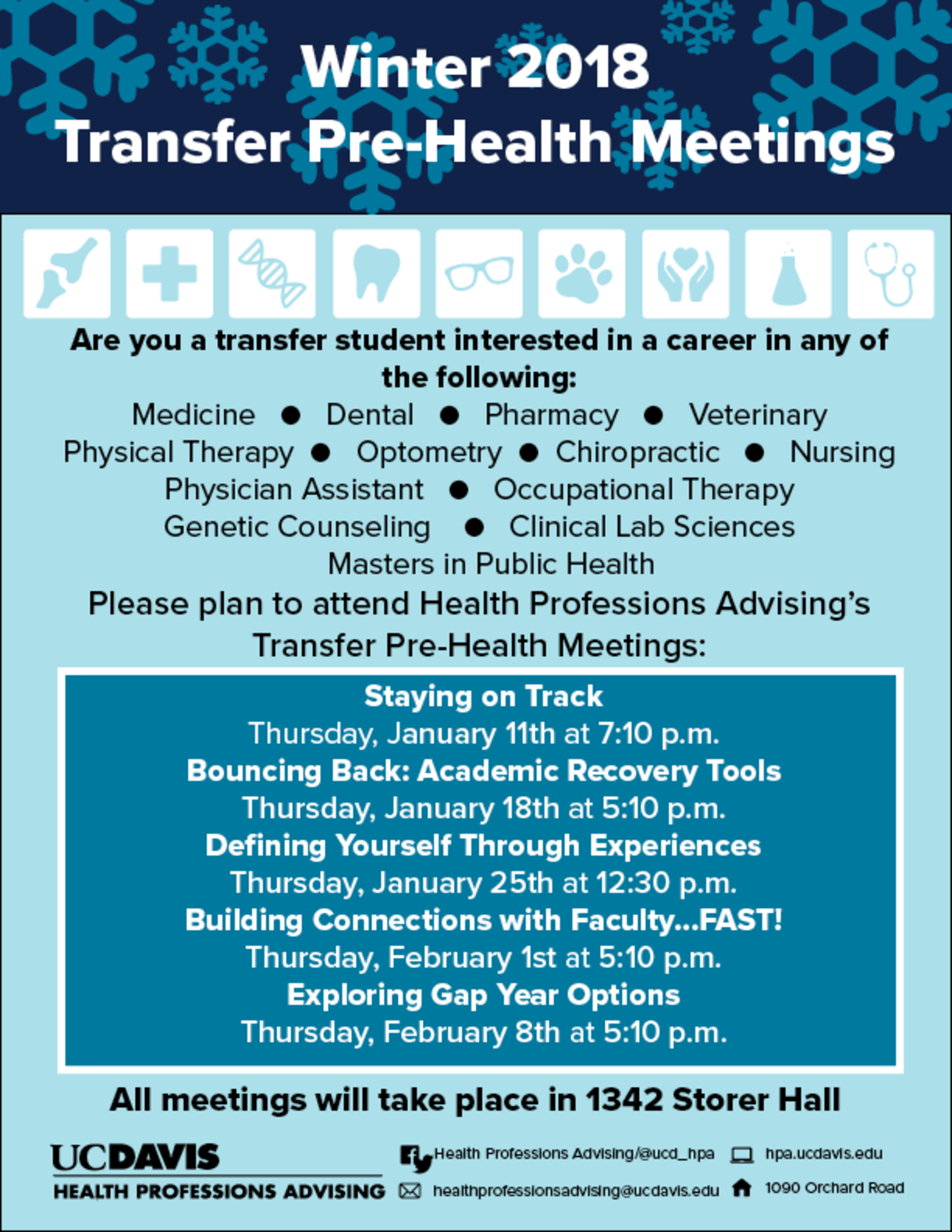 For Winter 2018 quarter, Health Professions Advising will be facilitating a series of workshops for transfer pre-health students.
Transfer pre-health students interested in a health career are invited to join HPA for a workshops to discuss strategies for success at UC Davis and staying on their pre-health tracks. This series will address topics geared specifically for transfer pre-health students in order to help guide students on how to navigate topics, such as academica recovery, experiences, building connections with faculty, and gap year options.
See the flyer for dates & locations.
---
Pre-Health Transfer Prep Program
The path of a pre-health undergraduate can be challenging, and being an incoming transfer student can make it even more challenging. This is why we're here to help!
HPA is hosting a Pre-Health Transfer Prep Program designed to give you a head start in learning how to succeed at UC Davis in the beginning of Fall 2018. During the course of our program, you will meet with other pre-health transfer students, be exposed to a sample lecture, gain an insight into what you have to look forward to as a pre-med student, learn how to navigate course scheduling, and get a general overview of various programs available to you as a UC Davis Student. 
This program is available to all students transferring to UC Davis in Fall 2018 who are interested in pursing a pre-health path (Note: Priority will be given to students in the College of Biological Sciences).
Registration will open in early Summer of 2018.
Questions? Email healthprofessionsadvising@ucdavis.edu.
---
We welcome all pre-health transfers interested in any health profession:
Allopathic Medicine, Osteopathic Medicine, Pharmacy, Dentistry, Optometry, Physician Assistant, Physical Therapy, Podiatric Medicine, Veterinary Medicine, Nursing, Chiropractic Medicine, Occupational Therapy, Genetic Counseling, Clinical Lab Sciences, Allied Health Fields, Public Health, Naturopathic Medicine

Questions? Email tpmhpa@ucdavis.edu.