Veterinary Medicine
What is a veterinarian?
"Veterinarians are highly trained medical professionals who provide for the health and quality of life of all kinds of animals. They use problem-solving skills and in-depth knowledge of biological, physical and social science to diagnose, treat and prevent animal diseases and help to maintain the quality of our environment. Veterinarians collaborate with physicians and public health agencies to prevent and control diseases transmitted from animals to people. Additionally, they advance medical technology through education and research.
The profession becomes more complex as trade barriers fall, new zoonotic diseases emerge, human travel increases, and production and distribution of food products take place in more concentrated, large-scale operations.
Many veterinarians in the United States work in private practice, but others work in a wide range of fields. They also specialize in a particular breed of animal, like equine medicine or exotics or in a medical specialty, like ophthalmology, oncology, pathology or dermatology."
- UC Davis Veterinary Medicine
There are a variety of career options after you've received your D.V.M. The AAVMC (Association of American Veterinary Medicine Colleges) lists the following careers on their website here:

Private practice

Corporate veterinary medicine

Federal Government (

United States Department of Agriculture (USDA), National Institutes of Health (NIH), Centers for Disease Control (CDC), and Food and Drug Administration (FDA)) 

U.S. Army Corps

 and 

U.S. Air Force

Research

Teaching

Public Health

Food supply medicine

Global Veterinary Medicine

Public Policy

Shelter medicine

Learn more about Veterinary Medicine at the 2017 UC Davis Pre-Health Conference!
Becoming a veterinarian
Becoming a veterinarian is a lifelong commitment to continuing education and in many cases a demanding lifestyle. In general, the path to becoming a veterinarian includes the following steps:
Obtain an bachelor's degree and complete all pre-vet requirements, including prerequisites, the GRE, and experiences (4+ years)
Attend veterinary school (4 years)
Optional: Complete residency (3-5 years)
Become licensed in the state you wish to practice
Prerequisites for Veterinary School
Myth: If I'm going to get a C- in a class, I should intentionally get a D or F in that class in order to retake it for a better grade.

Fact: Do not fail a class on purpose in order to retake it for a better grade. Even though the lower grade will not be included in your UC Davis GPA, it will remain on your transcript and most centralized applications will count that first grade into your application GPA.

Additionally, the health profession schools will still see it. It is better to have a C- in the course and improve through other courses in the same discipline than to take a D or F.

Most health professional schools require all prerequisites to be completed with a C or higher. Although you cannot repeat the C- at UC Davis, you will need to repeat it somewhere else either over a summer or after graduation.

If you need to discuss this or any other academic difficulty futher, please make an appointment with a staff advisor. 
Veterinary Medicine Prerequisites at UC Davis
Most schools require:
General Biology (BIS 2ABC)
General Chemistry (CHE 2ABC)
Organic Chemistry (CHE 8AB or CHE 118ABC)*
Physics (PHY 7ABC)
Biochemistry (ABI 102 & 103)
Math*
Statistics (STA 13 or 100)
English Composition (ENL, UWP, or COM courses)

Some schools may also require:
Animal Nutrition (NUT 115, ANS 122, or ANS 123)
Microbiology (MIC 102 & MIC 102L or 104L)*
Genetics (BIS 101)
Cellular Biology (BIS 104)
Physiology (ANS 100)
Public Speaking (CMN 1)
Humanities / Social Sciences
See the Veterinary Medical School Prerequisite Chart for a sample list of medical schools and their requirements.
*Check your major requirements before choosing classes.
Note: The above courses are only suggested, not absolute. 
To prepare academically as a pre-vet student, you'll need to take the veterinary school prerequisites and your major coursework. Even though many pre-vet students choose the Animal Science major, you can choose any major and apply to veterinary school. Always cross-check your major requirements with the veterinary school prerequisites when choosing classes.
Each vet school has different prerequisites. See a list of vet schools and their prerequisites here. Check each school's prerequisites on their websites before applying.
HPA recommends that pre-vet students maintain a minimum GPA of 3.0, although many vet schools will have GPA averages above this minimum. Many programs have a 3.0 cutoff, meaning that they might "screen out" your application if you apply with lower than a 3.0. 

The stronger you perform in your undergraduate prerequisite coursework, the more competitive you will be for veterinary school.
The Graduate Records Exam (GRE) is...

required by most veterinary schools. Some schools will also accept the MCAT.
available on a continuous basis throughout the year. Register for the GRE here.
composed of three sections:

Verbal Reasoning
Quantitative Reasoning
Analytical Writing

$160 each time you take it.
Pre-Veterinary Experiences
Myth: I can do a lot of meaningful experiences to make up for a weaker GPA.

Fact:  Having many meaningful activities will NOT make up for a low GPA.

You must focus on your grades during your undergraduate years, earn at least a 3.0, and then begin adding experiences. You can always take a year or two off after graduation to gain more experience. It is better to graduate from UC Davis with a higher GPA and less experiences than lots of experiences but a low GPA. 
PRE-VETERINARY STUDENT ORGANIZATIONS AT UC DAVIS
Student organizations are a great way to obtain veterinary experience and network with peers and professionals. Pre-veterinary clubs at UC Davis include:
Pre-Vet Students Supporting Diversity (PSSD)
Each veterinary school requires different amounts of experience. For example, UC Davis School of Veterinary Medicine requires 180 hours of veterinary experience, while Western University requires 500 hours. Many students will apply with many more hours than the minimum requirements. 

Some examples of pre-vet experiences include:
Applying to Veterinary School

VMCAS
The Veterinary Medical College Application Service® (VMCAS®) is where your application to veterinary school begins. 
VMCAS charges for each school you apply to. The first veterinary school costs $205, and each additional school is $105. 
You must apply the year before you plan on starting veterinary school. (For example, if you plan to start school in the fall of 2020, you must apply in the spring of 2019.)
Personal Statement
Starting with the 2017-2018 application cycle, VMCAS personal statement will be composed of three prompts:
There are many career choices within the veterinary profession. What are your future career goals and why?
In what ways do veterinarians contribute to society and what do you hope to contribute?
Considering the breadth of society we serve as veterinarians today; what attributes do you believe are essential to be successful within the veterinary profession? Of these attributes, which do you possess and how have you demonstrated these in the past?
VMCAS allows 1,000 characters for each prompt. 
The personal statement is your first chance to provide admissions committees with subjective information about your qualifications and your reasons for choosing this particular career. In other words, the personal statement is your initial opportunity to present yourself as an interesting and unique applicant who deserves a closer look.
Experiences
There are six types of experiences in VMCAS:

Animal Experience (not under the supervision of a veterinarian)
Veterinary Experience (under the supervision of a veterinarian)
Research
Employment (not animal-related)
Extracurricular Activities
Volunteer (not animal-related)

You will have 600 characters to describe each of these experiences. 

If an experience was animal-related, you will also designate what types of animals you worked with (small, food animal, equine, etc.)

Use the chart below to determine which category your experience falls under: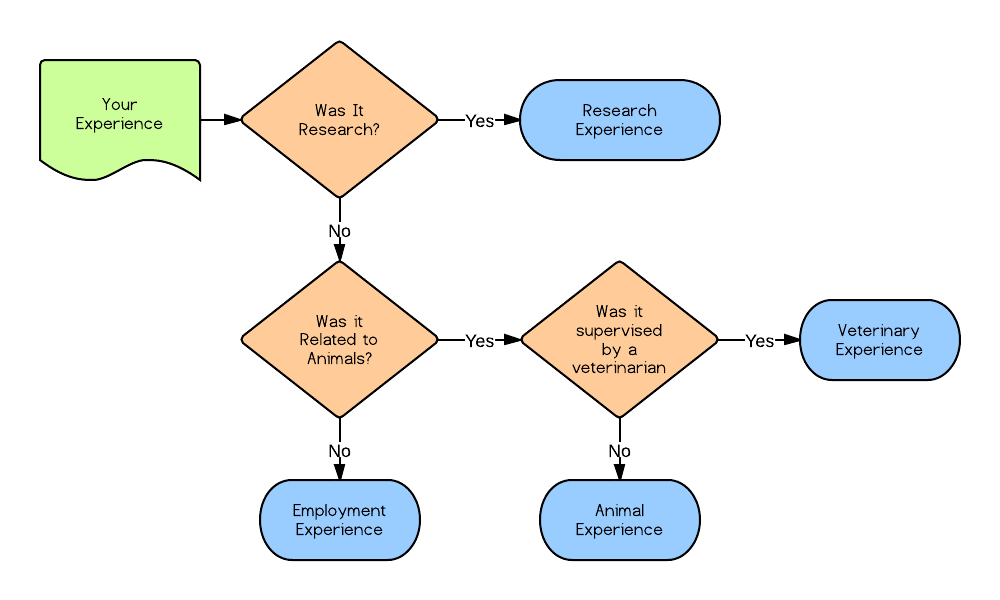 You will also have an opportunity to discuss Awards, Honors, and Scholarships in the Achievements section of VMCAS.
Letters of Recommendation
You must submit a minimum of 3 letters of recommendation, known as "Evaluations" in VMCAS, in order to submit your application.
Once you add a letter writer's information, they will receive an email with instructions for submitting a letter. 

Oftentimes schools will ask or recommend that your letters come from specific people, including:

Science faculty (Usually schools ask for 2 letters from science faculty)

Non-science or major faculty

Non-academic professionals

Veterinarians

It is very important that you keep track of the letter requirements for the schools you plan on applying to. 
Supplemental Applications
If a school requires a supplemental application, it will send instructions for completing it after your VMCAS application is verified or after the September 15th VMCAS deadline. 
Supplemental applications commonly include a processing fee. For example, the UC Davis fee is $60.
You may have to answer short essays as part of the supplemental applications, such as:

What unique qualities will you bring to veterinary school and the field?
Frequently Asked Questions
Do I have to be an Animal Science major?

No, you can choose any major and apply to vet school. While many pre-vet students do pursue Animal Science at UC Davis, you just need to complete the vet school prerequisites.

Which classes count towards the science GPA?

You can see which courses count towards the science GPA calculated by VMCAS here. 

To calculate your science GPA, pull up your Academic Record in OASIS. Along the left side of the course list, you will see boxes. Check off the boxes for the courses you wish to be included in the GPA calculation on the right side of the page.

What courses satisfy the English requirement for veterinary schools?

Lower and upper division English (ENL), UWP, and Comparative Literature (COM) courses will satisfy the English requirement for veterinary schools unless a school website says otherwise. You may also take similar classes at a community college. 

Note: Testing out of the upper division UWP course requirement via the Upper Division Composition Exam (UDCE) for graduation does not count towards the veterinary school requirement. 

Many pre-health students take UWP 104F (see course description here). This is a great option because in this class you will produce a personal statement draft. Consider waiting to take UWP 104F until your junior or senior year, or closer to when you will submit your application.

Do I need to take CHE 8AB or CHE 118ABC?

Can I study abroad?

Studying abroad is a wonderful experience that we encourage you to pursue. It is a valuable experience that provides the opportunity for growth in both maturity and cultural awareness.

You should not study abroad because you are pre-health in an effort to make your application stand out. You should study abroad because you want to gain the experience.

If your study abroad program was through UC Davis Study Abroad or UC Education Abroad (UCEAP), then your coursework will be on your official UC Davis transcript and fullfil prerequisites. If you studied abroad directly through a foreign institution, then your coursework will be on a "foreign transcript," which most health professional schools do not accept. 

When should I start writing my personal statement?

The personal statement should be a reflective, well-polished document. You can create your first draft as soon as you want. The more time you give yourself to get feedback and revise the better. Health Professions Advising advisors are happy to read your essay and give you feedback, but please make the appointment at least a month before your deadline.

Please bring a printed draft of your personal statement to appointments and drop-in advising.